---
Cash Home Buyers Elmhurst
The Easiest Way to Get Cash Your Elmhurst House.
GET YOUR NO OBLIGATION CASH OFFER IN LESS THAN 24 HOURS.
Trusted

Cash Home Buyers in Elmhurst since 2017
Facebook
4.4 Rating
We are trusted Cash home Buyers in Elmhurst
Express Property Solutions is the Top Local House Buyer in Elmhurst. We buy homes in Elmhurst, Illinois in ANY condition and we pride ourselves on being the easiest way to sell your house fast in Elmhurst. We make sure we understand your needs, and with our experience we create a tailored offer to benefit you and your time frame. Express Property Solutions has been buying homes since 2017. We are A+ rated with the Better Business Bureau. Find out what other happy sellers have said about us in our testimonials.
What Does This Mean for You?
Sell your house fast in Elmhurst, Illinois as-is, in its exact condition. No need for repairs, updates or even cleaning! Just give us a call or fill out our form and we will make you a no-obligation cash offer. If you accept, we handle all the paperwork make the process hassle free. Selling your house the traditional way will mean you pay thousands in commissions. You may need to handle repairs and updates to the home. When selling your home, there can be months of showings without any guarantee of how much money you will profit. This is why you should sell your house fast in Elmhurst to Express Property Solutions. It is the FASTEST and EASIEST way to go!
INTERESTED IN LEARNING MORE?
FOLLOW THE 3 STEPS BELOW TO BEGIN THE PROCESS
The Express Property Solutions 3-Step Process
---
Step 1
Visit Our How It Works Page
Understand how the process works and learn how we come up with our offer.
Step 2
Check Out Our Reviews
We know you likely want to know more about who you might be working with. See what some our happy home sellers have had to say about us!
Step 3
Request Your Fair Cash Offer
We will reach out within 24 hours to learn more about your house or rental property. Fill out your information and let us take it from there!
People Love Working With Us!
---
"They came out, looked at the house, and bought it in one day. That's what I liked!"
"Calling you was such a blessing. My life is beginning because of you guys."
"The process was easy. They were great and it went real quick!"
"They were very professional and tolerant and I think they are absolutely wonderful!"
We want to buy your home in Elmhurst for cash
Have you tried to sell your Elmhurst home, but you've hit some roadblocks along the way? If you've found yourself in this situation, then you've probably turned to a real estate agent. But, this isn't always the best option when you want to save money and you need to sell your Illinois home fast. That's where we step in. We buy houses in Elmhurst with cash, which means we are able to close quickly and on your schedule. When you work with Express Property Solutions, there's no more waiting around for months for your Elmhurst, IL house to sell or for the bank to approve your loan.
Do you want to know the best part about working with us? There are no hidden fees, closing costs, or appraisals involved. This is why hundreds of happy clients have chosen to work with us to sell their Elmhurst home. We make the home selling process pain-free!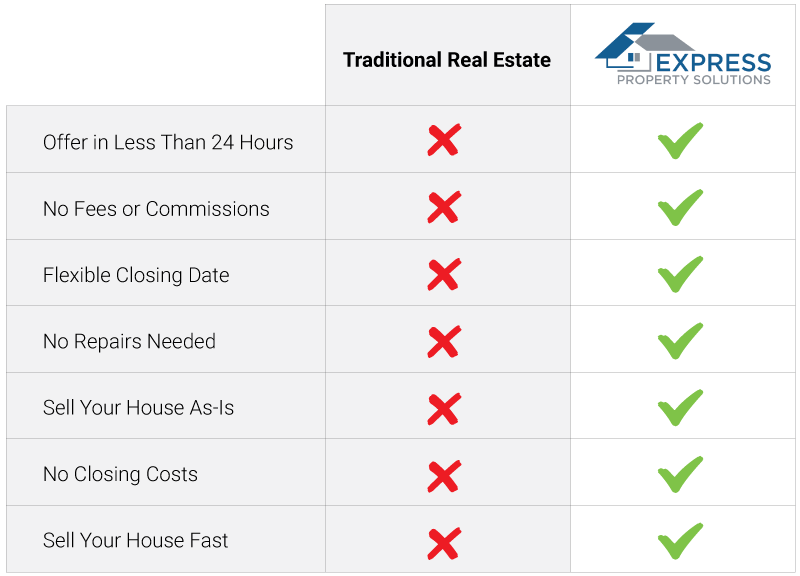 We Pay All Cash
Because we pay cash, we can be flexible and close on your time frame. We don't need to wait for an appraisal or lender approvals.
Easy & Clear Terms
We make this a simple, straight forward and easy to understand process for you.
We Do the Paperwork
We use a licensed and insured title company and we will make sure the details are taken care of, so you don't have to.
Zero Fees
You won't have to pay any title or closing costs.
Sell "As-Is"
You won't have to fix or clean anything! We will buy your home the way it is.
Close in Days
We can close in as little as 3 days.
Get cash for your Elmhurst home - in any situation
---
No matter your situation, we will help you get cash for your Elmhurst home! We buy houses in any condition or price range for cash. We make it easy to get cash fast, and you don't have to worry about making repairs. We buy houses in Elmhurst in any condition.
---
Upgrading
Major Repairs Needed
Health Issues
Old, Outdated Houses
New Houses
Storm Damage
Fire Damage
Termite Damage
Full of Stuff or Trash
Major Repairs Needed
Unfinished Construction
Financial Issues
Title Issues
Code Violations
Hoarder Home
Low Equity
Large Liens
Out of Area Property
Family Matters
Enter Your Elmhurst Address to
Of Selling to Express Property Solutions
Traditional Sales Process
6% of purchase price plus other fees
Price haggling and unpredictable offer
Clean up and repair hassle
Long sales timeline, often 2-3+ months
Express Property Solutions
ZERO FEES to sell your home
Sell AS-IS. No cleanup or repairs, or showings
Close in just 10 days, or move at your pace, up to 60 days
Lower prices, zero transparency
High-pressure sales tactics, often not trustworthy
Small-scale local operators not a trusted brand
Reviews From Those We've Helped
"First of all, THANK YOU for everything you, Wendy and your team did for us. Without Express Property Solutions we couldn't have bought our dream home, so to you guys we will be forever grateful! We were very impressed with how you did everything, renovating the house and getting under contract in a month! We could not have done that on our own. We are glad to have created this partnership with you and your company. The overall amount is beyond what we expected so thank you again!"
– Manny and Rachel
"I purchased 4 Milwaukee homes with Blake in 2015. All of them were major rehabs. When scrutinizing the rehab process of a provider my main concern is if the rehab is being done in a manner that will make the home desirable to a home owner when my time renting the property is over. This is a higher standard than simply making it rent-able and I am confident that my homes are desirable to a retail buyer. Once the rehab was complete the homes were quickly rented and performed as projected. I am making money with Blake."
– Jim H
"Blake has helped me with investing in real estate for the past 3+ years. I have found him to be honest, helpful, and good for his word, directing me toward good investments and also getting me out of some tight spots. Blake is the kind of guy you want on your side in the challenging world of real estate investment."
– Donna S.